Hotel Room of the Future - DASL Winter Workshop 2016-17
From Lofaro Lab Wiki
Objective
Create the next generation of hotel room, i.e. "the hotel room of the future." The goal is to have the room be guest-centric meaning that the "guest is in the loop" for all room parameters, settings, etc. The room will be automatically customized to the guest at time of checkin via connection with the LTE capable Samsung Gear S3 Smart Watch. Having an LTE connections means no phone is needed.
Example scenario:
When the guest gets to the hotel they go directly to their room rather than having to go to the front desk. They do not need to see anyone if they do not want to.
As the reach for the door handle it will automatically unlock due to an NFC connection and a smart watch (Samsung Gear S3). No Keycard Needed.
When in the room the temperature will be automatically adjusted via Nest to the guest's home preference. Same as at your Smart Home
Feedback for the room temperature will be taken not only from the room's thermometer but also the smart watch/phone's sensor. This means the ultra-local temperature can be adjusted to the guest's preference. Human in the loop
Real-time health monitoring will:

Send an "SOS" message to the proper agencies if there are health issues (e.g. heart attack, stroke, fallen, etc)
Temperature and lighting (via Philips Hue Color A19 Smart Bulbs) will be adjusted to better the guest's mood.

Music, video, and other entertainment preference will also be synced via the Samsung smart watch and the Amazon Echo Dot
Secure guest only cameras in room will be available to monitor your kids (via Nest) if they are in adjacent rooms.
If the guest goes out to go to a place where they might not have their phone with them (such as swimming or jogging) the system will still work because it is all based on a smart watch (Samsung Gear S3).
Tools
Listed here are the off the shelf tools to be used with this project
Samsung Gear S3
The Samsung Gear S3 smartwatch is the sixth version of the Samsung smart watch to come to the market. The watch operates on the Tizen operating system, and is the first wearable device to enter the wearable market with MDM support. The watch also features the ability for application customization, a customized kiosk mode and deploys application without a smart phone pairing.
The Gear S3 has five sensors, altimeter, barometer, speedometer, integrated GPS and a heart rate sensor. Currently the sensors integrate using the S health application on Samsung Galaxy devices, allowing users to track exercise and provide information on calculation of calories burned in specific types of activities and provide a digital coach to offer life style suggestions.
The Gear S3 is widely considered the first smartwatch designed with enterprise users in mind, leveraging the ability to use a MDM to manage deployed watch, the sensors to provide real-time environmental and biological data that all come together to offer a smarter and safer workforce in multiple industries.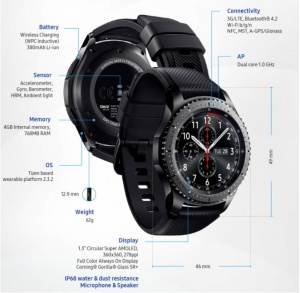 Philips Hue Color A19
Your life, in living color. Transform your home with color and shades of white light that you control wirelessly through your mobile device or Google Home. Relax with a warm white or stay alert with an energizing red.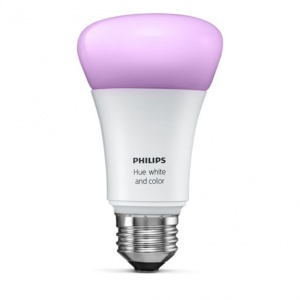 Source: https://store.google.com/product/phillips_hue_color_a19
Amazon Echo Dot
Amazon Echo Dot uses the Alexa Voice Service to play music, provide information, read the news, set alarms, control smart home devices, and more using just your voice. Connects to speakers over Bluetooth or with the included audio cable to play music from Prime Music, Spotify, Pandora, iHeartRadio, and TuneIn. Includes a built-in speaker so it can work on its own as a smart alarm clock in the bedroom, an assistant in the kitchen, or anywhere you might want a voice-controlled computer. Hears you from across the room with far-field voice recognition, even while music is playing. Controls smart home devices like lights, switches, thermostats, and more with compatible connected devices from WeMo, Philips Hue, Samsung SmartThings, Nest, ecobee, and others. Always getting smarter and adding new features and skills.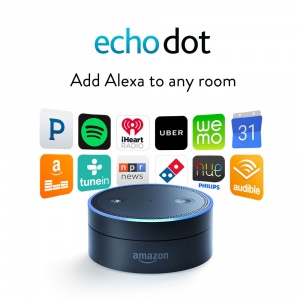 Source: https://www.amazon.com/Amazon-Echo-Dot-Portable-Bluetooth-WiFi-Speaker-with-Alexa/b?node=14047587011
Nest Thermostat
The 3rd gen Nest Learning Thermostat does. It learns what temperature you like and builds a schedule around yours. Since 2011, the Nest Thermostat has saved over 8 billion kWh of energy in millions of homes worldwide.* And independent studies showed that it saved people an average of 10-12% on heating bills and 15% on cooling bills. So in under two years, it can pay for itself.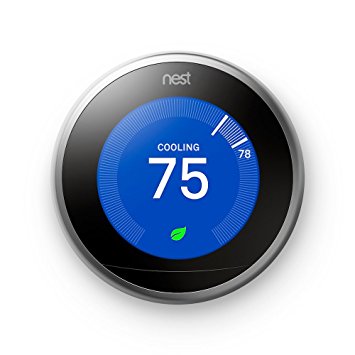 Source: https://nest.com/
Nest Smoke Alarm
The new Nest Protect has been redesigned from the inside out. It has an industrial-grade smoke sensor, tests itself automatically, and lasts up to a decade. It's also the first home alarm you can hush from your phone without any extra hardware required. And just like the original Nest Protect, it tells you what's wrong and can even alert your phone.
Meet the all-new Nest Protect. The smoke alarm other alarms look up to.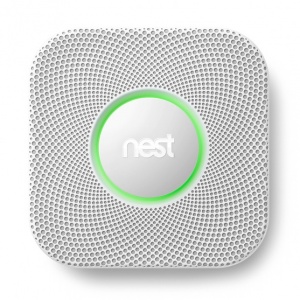 Source: https://nest.com/
Nest Indoor and Outdoor Cameras
You can't always be watching your video feed. Nest Cam looks for motion and listens for conspicuous sounds, like a boom or the crash of a window breaking. If Nest Cam thinks something's up, it'll send a phone alert or an email with a key image from the event. And if you miss an alert, you can see photos of activity from the last three hours for free in the Nest app.
Source: https://nest.com/
Samsung Exon SHS1321 Digital Doorlock
Touch the pride! Samsung Smart Door Lock. Security feature with he magic number! Password method Security setup to keeps the house safe when going out.
Features
Security feature with the magic number (Password method)
Security setup to keep the house safe when going out
More secure! Automatic lock / Double lock feature
More secure in an emergency! Assured security with Samsung doorlock.
Luxurious design with high glossy body frame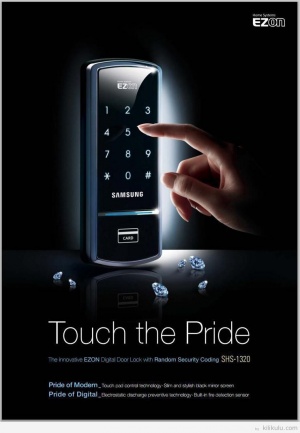 Source: https://www.samsungsds-nss.com/?p=en_SHS1321
DASL Winter Workshop Info
Link: http://daslhub.org/ces/index.html
acuum cleaners, drones and arguable driverless cars, assistive wearables, 3D printers and virtual headsets are examples of consumer robots. This Winter School's objective is to better define consumer robotics - and specifically, identify research topics and areas.
A Field Trip to the Consumer Electronics Show (Jan 5-7, 2017) is a part of the Winter School. CES hosts 400+ consumer robot companies which join 170,000 attendees, 3700+ exhibitors and global media for product launches and market trends.
Lectures
Prof. Zexiang Li (Hong Kong University of Technology) on DJI and Consumer Drones
Dr. Steve Cousins (Savioke) on Hotel Robot Room Service
Dr. Tony Lewis (Qualcomm) on Embedded Intelligence
Prof. Ayanna Howard (Georgia Tech) on Educational Robots
Dr. Martin Buehler (Disney Research)
And more to come...
These Distinguished Colleagues have academe/industry experiences that will help students and the robotics community better understand the growing field of consumer robotics.
"Box-of-Parts" Workshops
Intel Euclid
HTC VR Vive
Robotis Ollobot and SDK
Google Home
Google Nest
Philips Hue Color A19 Lighting
Samsung Galaxy Gear
CTX Laser Keyboard
Double Robotics Telepresence Robot
Stay tuned for late-breaking additions e.g. Hololens and NVIDIA HDK
A Rapid Innovation Sprint (hack-a-thon) gives students hands-on experience with some of the "hot" items in the field to design consumer robot solutions.
Hotel Challenge
40M+ guests lodge in Las Vegas hotels annually. Such volume and diversity provides a case study for consumer robotics. The "Hotel Challenge - Innovating Guest Experiences" will be hosted by leaders of Vegas' hospitality industry. Students will apply the lectures, Box-of-Parts and CES Field Trip to meet this Challenge.
Sponsors
Sponsored by the IEEE Robotics and Automation Society (RAS) as a service to its members and to promote leadership in the robotics field.
Project Support by Samsung SDS America